(below you may find the English version)
Un vuelo de 4600 kilómetros.
Las migraciones suelen ser un tema frecuente entre los amantes de las aves, ya sea por los viajes masivos realizados por las rapaces, o por los coloridos tonos de los paseriformes que embellecen cualquier jardín o bosque durante los meses de noviembre a mayo. Pero, en esta ocasión se detallará sobre una de las migraciones menos notorias, pero que involucra a las aves más esbeltas, las migraciones de las garzas.
Las garzas (Familia Ardeidae) son aves tropicales y neotropicales que suelen asociarse a una amplia variedad de cuerpos de agua, entre ellos zonas inundadas, ríos, y estuarios por citar algunos. Dentro de sus hábitos migratorios destaca el hecho de no formar grandes grupos, sino que prefieren hacerlo en grupos pequeños y en ocasiones en forma solitaria. Por lo tanto, para conocer mejor la dinámica de estas migraciones, vamos a conocer a una de las especies más particulares de garzas, el garzón azulado (Ardea herodias).
El garzón azulado, es una especie que alcanza los 117 cm de tamaño, y una envergadura alar entre 130 y 170 cm. Este gigante viajero realiza migraciones invernales desde Norteamérica a Suramérica, donde muchos de los individuos se establecen en humedales de Costa Rica recorriendo una distancia migratoria de hasta 4600 kilómetros. Tienen una distribución amplia dentro del país, pero sus requerimientos del hábitat (tipos de bosque y asociación específica a cuerpos de agua), hacen de las regiones del pacífico sur un punto de especial afluencia de esta especie, donde habitualmente pueden encontrarse en las tierras altas de la fila Costeña Brunqueña, además de zonas bajas entre los que se encuentran los manglares de Térraba y Sierpe. En estos hábitats, el garzón azulado suele tener un papel ecológico de depredación, donde suelen alimentarse principalmente de peces, pero su dieta no se restringe sólo a estos, sino que consta además de una amplia variedad de presas como ranas, serpientes, tortugas, roedores, insectos y ocasionalmente algunas aves pequeñas.
El observar una de estas majestuosas aves en su hábitat natural resulta una maravillosa experiencia, no sólo por sus plumas de tonos grisáceos, acompañados de una cresta oscura, y un contrastante pico color amarillo-anaranjado, sino por lo que representa avistar a uno de los grandes viajeros, por lo cual, si desea conocer más sobre esta especie, sus hábitos, así como su ecología, tiene una invitación cordial para visitar el pacífico sur de Costa Rica.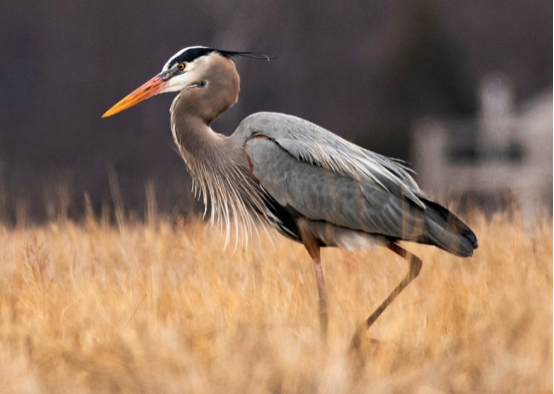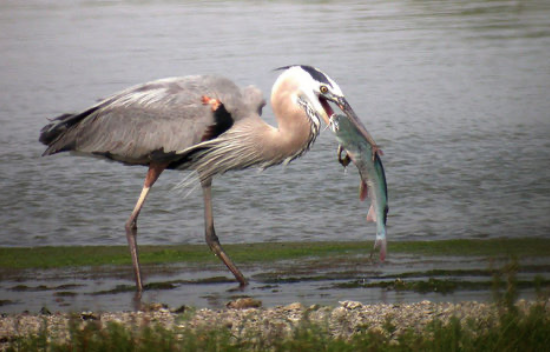 Referencias:
Garrigues, R., & Dean, R. (2014). The birds os Costa Rica. Zona Tropical Publication. 2a ed.
Stiles, F. & A. Skutch. (2007). Guía de aves de Costa Rica. Editorial INBio (Instituto Nacional de Biodiversidad). 4ta ed, Santo Domingo de Heredia, Costa Rica.
Tree of Life Web Project. 2008. Ardea herodias. Great Blue Heron. Version 27 June 2008 (temporary). http://tolweb.org/Ardea_herodias/89638/2008.06.27 in The Tree of Life Web Project, http://tolweb.org/
The Great Travelers
A 2,858 miles flight.
Migrations are a common subject between bird lovers. This could be because of the massive trips performed by birds of prey, or because of the colorful passerine birds that embellish any garden or forest from November through May. But this time, one of the less notorious migrations shall be detailed. It involves slender birds: herons.
Herons (Ardeidae family) are tropical and neotropical birds that are usually associated with a wide variety of water bodies, such as flood areas, rivers and estuaries, to name a few. Not forming big groups, and even traveling alone sometimes, is one of its most remarkable migratory habits. Therefore, in order to know better these migrations' dynamic we will study one of the most particular heron species: the great blue heron (Ardea herodias).
The great blue heron are 117cm tall, and a wingspan of 130 to 170cm. This giant traveler performes winter migrations from North America, all the way to South America, where many subjects stay at Costa Rica's wetlands crossing a distance of even 2,858 miles. It has an ample distribution inside this country. Its habitat requirements (types of forest and specific association to water bodies), make of the pacific south regions, a spot of special affluence of this bird, whereas they may be found at the highlands of the Brunqueña's coastal ridge. They also may be found at lower areas between Térraba's and Sierpe's Mangroves. At this habitats, the great blue heron, plays an ecological predator part, because it usually eats fish but also an ample variety of dam, such as frogs, snakes, turtles, rodents, insects and sometimes even small birds.
To watch one of these majestic birds in its natural habitat turns out to be a wonderful experience, not only because of its grayish feathers and dark crest, and contrastive yellow bill, but because of what it represents to watch one of the great travelers. Because of this, if you would like to know more about this kind of bird, its habits, as well as its ecology, you are cordially invited to visit the pacific south of Costa Rica.